---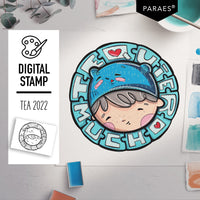 Como el año pasado colaboro con el II MOVIMIENTO SCRAPERO POR LA CONCIENCIACIÓN DEL AUTISMO (@Scrap_Tea). Espero que os gusten, son dos sellitos muy especiales que representan dos niños con TEA (trastornos del espectro autista). Todo mi apoyo a las familias y amigos con miembros con TEA. 
YOU WILL RECEIVE
:::::::::::::::::::::::::::::::::::::
2 Individual files/ separate files. Each in JPG (resolution 175 dpi) + 2 individual grey files for NO-LINE coloring.

USES
:::::::::::
- Don't share the files with other persons.
- For personal / Non-Profit use.
- NOT COMMERCIAL USE.

All rights reserved ©2022 PARAES®.